About the CLBC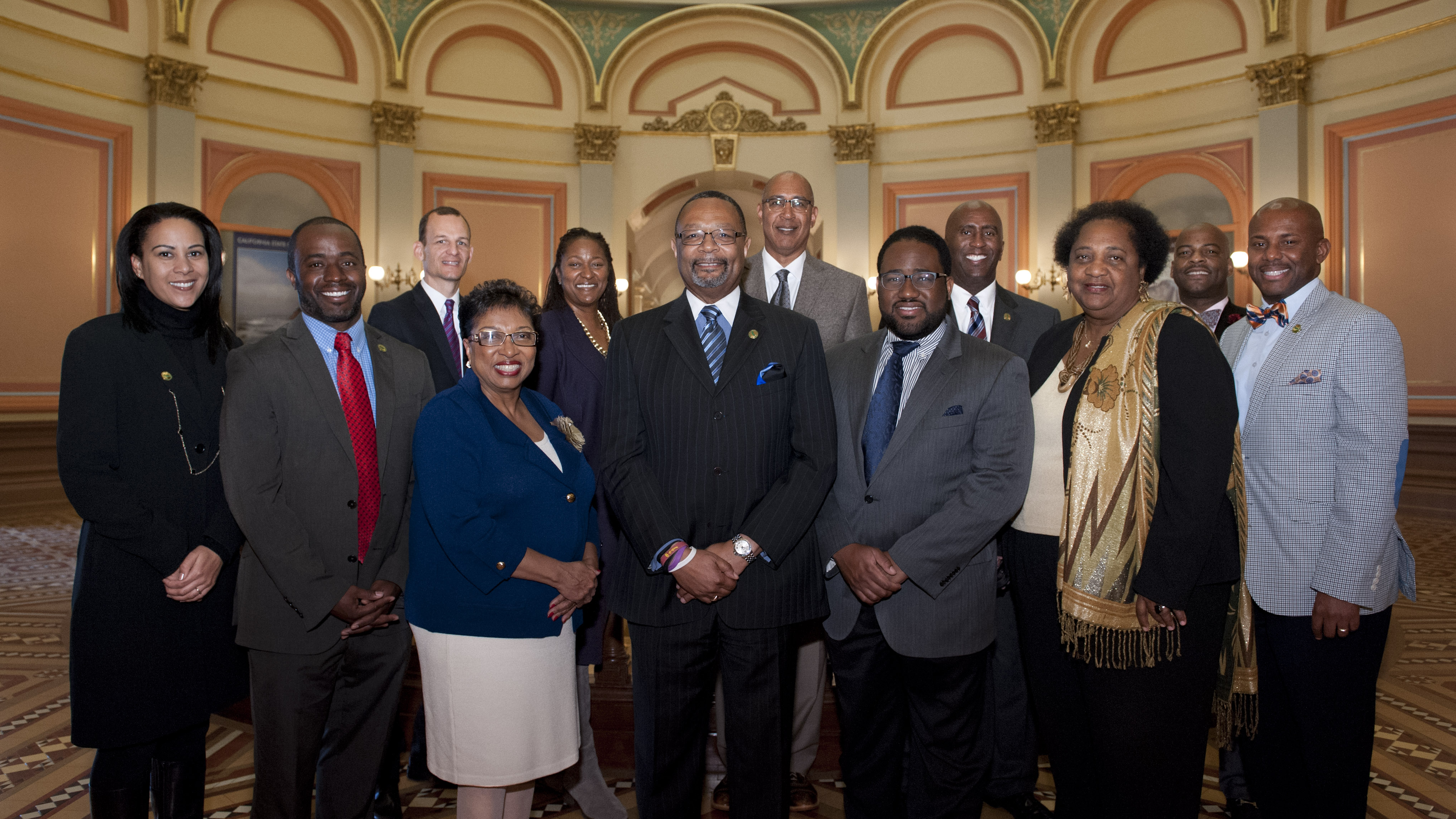 The California Legislative Black Caucus represents and advocates for the interests of Black people throughout California. It seeks to increase African American participation and representation in all levels of government. Since the formation of the California Legislative Black Caucus (LBC), the core mission of the LBC has been to close (and, ultimately, to eliminate) disparities that exist between African-Americans and white Americans in every aspect of life. These continuing and troubling disparities make it more difficult, and often make it impossible, for African-Americans to reach their full potential. The LBC acknowledges the unfortunate fact that disparities between African-Americans and white Americans continue to exist in 2007 in every aspect of our lives and that the historical mission of the LBC has not yet been fully accomplished. Therefore, the members of the LBC have adopted this Agenda in the 2007 legislative session that recommits us to the historic mission of the LBC – working to close and eliminate disparities and toward the goal of full equality. The LBC will continue to work with all who are willing to work with us to help advance our agenda and achieve this goal.
The following are among the many substantive areas in which disparities continue to persist, and some of the positions the CLBC supports to close and eliminate the disparities in these areas:
Increase Black representation in all levels of government, including statewide appointments and statewide elected offices.
Creating employment opportunities and economic security for African Americans.
Ensure the African American community has equal access to education, social services, health, mental health, and other government programs and services.
Preserve safety net health, mental health, and social service programs that serve the African American community.
Strengthen protections against hate crimes and defend the civil rights and liberties of Blacks.
Fight racial stereotypes and negative portrayals of Blacks in the media.
Promote greater civic participation and knowledge about major policy issues among the African American communities.
Closing the achievement and opportunity gaps in education.
Assuring quality health care for every Californian.
Building wealth and business development for all Californians.
Ensuring justice for all.
Retirement security for all Californians.
The LBC supports:
Emphasizing universal access, affordability and prevention in health care;
Providing meaningful coverage for prescription medications to every Californian; and
Increasing African-American representation across all health care professions.
Ensuring that seniors are provided for in any health care reform proposals
Providing equal access to capital for individuals and businesses and the elimination of redlining and predatory lending practices;
Expanding affordable rental and ownership of housing; and
Achieving aggressive minority business goals and participation in government and private contracting.
Guaranteeing equal access to vote, making sure that every vote is counted, extension of the expiring provisions of the Voting Rights Act, and reinstatement of voting rights after criminal defendants have served their sentences;
Ending racial and ethnic profiling;
Advocating for Criminal and Juvenile Justice Reform that focuses greater emphasis on prevention and rehabilitation, reduces recidivism by successfully reintegrating former inmates into society and ends arbitrary mandatory minimum sentences;
Appointing fair and impartial Judges; and
Preserving Affirmative Action until all the effects of past and present discrimination have been eliminated.
There are many areas in addition to the above in which disparities continue to exist and on which the CLBC Action Agenda will also focus. Some of these areas include building stronger African-American families, improving the welfare of children, increasing African-American political representation, reducing inequities and improving opportunities for African-Americans to advance in education, and eliminating waste, fraud, abuse and disparities in every area of government.
The mission and objective of the LBC and our Agenda for the 2007 Legislative Session continues to be improving the condition of African-American people. However, the LBC has never sought to limit the benefits of its endeavors to African-Americans. Indeed, the members of the LBC firmly believe that the priorities outlined in this Agenda will benefit all Californians and will make our country better for all people. We invite all Californians to join us in the quest to remove disparities and barriers that increase the burden or make it impossible for individuals to achieve their full potential. African-Americans will be better for it and California will be better for it, too.